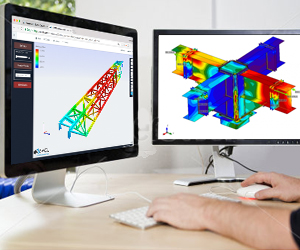 structural design – from concept to reality
Do you have a concept that is ready for design?
At Think Structural, we specialise in helping clients take their concepts from the drawing board into reality by providing excellence in structural engineering.
We find that early structural input not only helps in a smooth design process, but also results in a better structure overall.
Think Structural has extensive structural experience in hepling;

Mining Companies
Oil & Gas Companies
Marine Infrastructure Companies
Subsea Development Companies
Heavy Equipment Suppliers
Fabrication Companies
Lifting Equipment Suppliers
At Think Structural we love challenges – big and small.
We can design to Australian standards and can show compliance to International codes to meet your project requirements.
We use multi-purpose 3D analysis design software SPACE GASS that can design anything from platforms, plated structures, frames, towers, transport frames and bridges.
Our clients are often surprised by the possibilities we present to them.
Ask us for a no-obligation free quote by sending your concept to gday@thinkstructural.com.au.
why use think structural for my project?
Our designs are built to last the test of time. We consider the entire life cycle of a structure to ensure it the design is fit for purpose.
We think safety is integral to the design. That way safety is incorporated into the project from the beginning.
We integrate with your project team so that our presence is seamless and integrated. The most crucial part is ensuring schedule and technical requirements are delivered on time and budget.